Rubber Flooring | Anti Slip/Non Slip Rubber Matting | Polymax India

Commercial Flooring | Industrial Flooring | Domestic Flooring
Huge online collection of rubber floor mats, rolls and tiles. For domestic and commercial use. Non-slip rubber flooring in a variety of styles, cut to size to suit your application. Kitchen and Bathroom flooring, gym flooring and weight mats, stable flooring and outdoor mats.
Can't find what you need? Contact one of our experts. Call +44 (0)1420 474123 or email sales@polymax.co.uk.

Matting for all types of applications, available in different widths, thickness's and colours.

Polymax offer a variety of different matting tiles in different styles and sizes for use indoors and outdoors.

Quick and easy to install rubber flooring, often used in bathrooms, kitchens, camper vans and offices.

Available in various colours in either a studded or slate effect design are used in kitchens, offices and bathrooms.

Non Slip and available in a variety of colours to add colour to your bathroom.

Excellent choice of colours to brighten up the kitchen with a hard wearing, non slip design.

A range of sport focused rubber matting products suitable for gyms, swimming pools, wet-rooms and playgrounds.
PVC Oil Resistant Matting

PVC improves durability which makes this type of flooring ideal for garages, workshops and manufacturing plants.
Changing Room & Pool Matting

Swimming pool matting - Durable, resilient and especially designed for wet area application where grip is required.

Range of grass mats for Playground surfacing, temporary car parks, roof terraces and walkways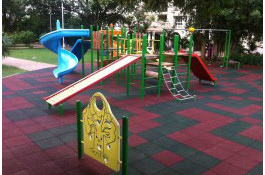 Range of matting options for Playground surfacing.

FINA electrical rubber matting is ideal for switch boards and high voltage areas. Supplied with a Anti-slip top surface.
Horse stable mats in a premium rubber compound. Range of matting for your horse trailers, stables and walkways.

Oil resistant, tough, anti-slip flooring perfect for a garage environment.

Get the most out of the Polymax flooring with maintenance kits, Adhesives and applicators.
Adhesives and Accessories

Rubber Flooring and Matting Adhesives and application accessories